As holidays approach, engage your client with a financial gift idea
According to a recent survey of parents, nearly half of all respondents said contributions to their beneficiary's 529 account would be a welcome holiday gift. After the economic ups and downs of the past few years, many parents now recognize that the gift of education is one present that never breaks or goes out of style.
As their financial advisor, these same parents look to you to help them reach their financial dreams. The holiday season offers the perfect opportunity for you to have a conversation with your clients about setting up their my529 accounts for meaningful gifting with the my529 Gift Program.
The Gift Program allows the families and friends of your clients a stress-free way to create an impact through their contributions, and the giving is convenient and secure.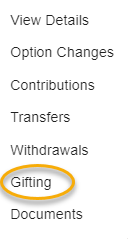 Your clients can set up the Gift Program from their accounts. Once they are enrolled, they will receive a gift code and link that can be shared with family and friends through email and social media. If you have Level 2 or 3 LPOA access, you can activate the gift code for your clients from the advisor site. Login and click on the three dots next to the client's name and click on gifting.
Once you have enabled the gift code for your client, your client will receive a confirmation email notifying them that the code is enabled. Within that email, the client will also receive further instruction on how they can log in to their own portal and access the code and gifting link. Clients will also have the option to personalize their gifting page for themselves and their needs. Find out more information about the Gift Program here.
The my529 Gift Program doesn't have to be reserved only for the holidays. Once your clients have a gift code set up, they have the ability to send that code to friends and family to recognize other special occasions like birthdays, graduations, milestones or just because.
Helping your clients make the most of their educational savings through the my529 Gift Program is a great way for you to let them know you care during the upcoming holiday season.
Financial Advisor Newsletter – Winter edition