2021 Make Your Mark Winners
Eight Utah students have each won a $1,000 college savings scholarship in the 2021 Make Your Mark bookmark contest. The contest, sponsored by my529 and the Utah Board of Higher Education, invited students throughout the state to create an original bookmark design.
Winning entries were chosen by judges, with two winners from each of four age categories. Click on the image of the bookmark to see a larger PDF version.
Grades K-3
Anasofia, a third-grade homeschool student in Davis County, and Seth, a first-grader in Alpine School District were the winners in grades K-3. Entries were judged by Utah State Treasurer Marlo Oaks.

Anasofia had a special connection to her design, which was a bunny drawing a carrot with a pencil in its mouth. "My inspiration was my pet rabbit, Edward. He died a couple months ago and he was the best bunny on earth," she said.
Anasofia said she was "super excited and happy" to win, and that she would eventually like to attend the University of Utah and become a Red Rocks gymnast.
Seth, bookmark on right, enjoys math and writing and "loves to draw," according to his mother. His future plans include a desire to be an artist, engineer or astronaut.
Grades 4-6
The winners in grades 4-6 were Andrew, a sixth-grader in Jordan School District, whose entry was selected by Utah First Lady Abby Cox, and Silas, a sixth-grader in Davis School District, whose entry was selected by Utah Gov. Spencer Cox.

Andrew explained his drawing, at left: "I drew a little girl sitting on a big stack of books. All around her was just tons of books. There was a window behind the little girl and in the window was a dragon representing the book she was reading and kind of how the book came to life."
"My inspiration for my drawing is that I have ALWAYS loved reading books … I feel like I can travel to different worlds," he said. "And the reason why there are so many books is because when I was a boy, I would read book after book."
Andrew said he plans to attend Brigham Young University after junior high and high school.
Silas painted a turtle, at right, because "I love the ocean and a turtle reminded me of that," he said. He would like to study something that uses math.
Grades 7-8
In the category for grades 7-8, Jeffrey, a seventh-grader in Cache County School District, and Lilian, a seventh-grader in Alpine School District, were chosen as winners by Adrienne Andrews, Weber State University Assistant Vice President for Diversity and Chief Diversity Officer.

Jeffrey described his drawing, left, as a 3D illusion made up of stacked books that change direction when looked at differently. "I was inspired to create this design because I enjoy looking at things from new angles and solving puzzles."
He plans to go to Harvard University. "This award money has given me a jump start to saving for college and will help me reach my goal," Jeffrey said.
Lilian's design featured a girl reading a book while sitting on a ground in a forest. She is surrounded by bright fireflies and next to a pond with lily pads.
Grades 9-12
Winners in grades 9-12 were Coleman, an 11th-grader in Nebo School District, and Katie, a ninth-grader in Davis County School District. Entries were judged by Marina Gomberg, University of Utah Fine Arts Marketing Director.
Coleman's design, left, showed a pug sleeping in a bed. Next to the dog is a "101 Dalmatians" book, and above the canine are the words "You fell asleep here" near a light bulb.
"I used to sometimes fall asleep near midnight while reading a Calvin and Hobbes book, and would wake up with the book still on my bed waiting to be read again," Coleman said. "I once saw one bookmark that plainly said, 'I fell asleep here,' and that gave me a fun idea to make a bookmark that incorporates a similar phrase and my memories of reading books late at night."
He said he would like to attend Brigham Young University to further his studies.
Katie, bookmark at right, drew a person sitting under Delicate Arch while reading a book, with some floating books and the Milky Way in the background.
"My inspiration for the Delicate Arch was that I wanted to show a bit of Utah in it. … The Milky Way is a metaphorical representation of the knowledge the person is getting from the books, forever expanding, like the universe," she said. "The books floating came from my experience from reading, feeling like I am floating along with the protagonist."
Katie plans to attend NUAME next school year, a public charter with a focus on math, engineering and science.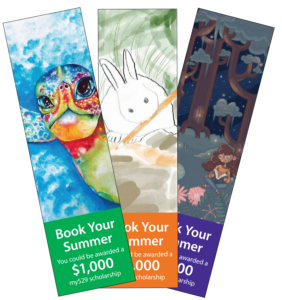 Find out more
my529 offers scholarship opportunities for Utah students.